Collaborative Content Feedback: Applicant Upcycling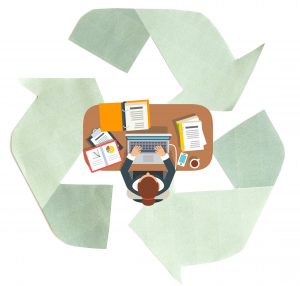 As more businesses look to utilize information they have access to, many often overlook data available in their applicant pipelines. Candidates who have applied for a position in your company and haven't been selected are often an unmined resource: a pool of applicants who have already shown interest in your company. Some may have been disqualified early in the process, others may have been edged out by someone with a slightly higher skill set; still others may have been second or third choices for your vacancy.  Most employers will keep those who made it into the interview pipeline on reserve for future openings, but that leaves a large amount of potential talent who may fit the bill for other positions essentially unmined.
How often do recruiters go back to that talent pool when a new position opens? What about when a position requiring lesser experience or different qualifications is available? As the market for talent continues to shrink, particularly in IT positions, the data submitted by applicants may be a valuable resource when you look to fill future positions. Whether they were a close second, or a distant contender for the vacancy, is it worthwhile to give those who weren't selected a second look?
Upskillers – and how to find them  
For many employers, the answer in the past was no. If a candidate didn't make the cut for the first vacancy, why bother looking at them for any subsequent openings?  But what if candidates were able to retool their skill set automatically after being rejected? Those candidates who took the time to upskill, who used their own initiative to increase their proficiency could very well be the next top hire you make. For many of these applicants, all they need is guidance to put them on the path to success: that's where Rankdone's Collaborative Content Feedback feature comes into play.
Collaborative Content Feedback Guides Applicants to Knowledge
Applicant tracking systems and prescreening platforms reject the majority of candidates who apply. Their mission is to funnel the best applicants possible to your vacancy, which is exactly what you want. But the massive volume of untapped talent they reject could represent massive missed opportunities.
With Rankdone, applicants are not just screened out based on a set of 5 key data points you enter: our pre-qualifying platform tests candidates for the specific skill set you require. Candidates are ranked by their level of proficiency and you choose who to focus your interview time and resources on.
With Collaborative Content Feedback, the newest feature on the Rankdone platform, those candidates who don't meet your minimum testing standards get more than just a polite rejection email. They get guidance to improve their skill set. Rankdone provides data-specific, targeted links for applicants to find out how to improve their proficiency for every incorrect answer they've supplied. Not only are they finding out what they missed on the test, they're told how to get the answer correct for the next time. Links direct them to videos, tutorials and other resources – all free of charge – to improve their skills and proficiency.
Reduce, Reuse, Recycle, Upcycle
Reduce, reuse, recycle, upcycle – we see the signs all around us, and the try to incorporate their message in everything we do. Today, we can reduce the amount of time and we spend looking for candidates and reuse the applicants who've already shown an interest in joining our company.  With Collaborative Content Feedback from Rankdone, potential hires have the opportunity to upskill (upcycle) themselves for future consideration. Wouldn't you be interested in an applicant who took the time and the initiative to improve their skill set for your company? Contact Rankdone to find out how Collaborative Content Feedback can help you upcycle applicants today.
Rankdone, a leading platform that helps recruiters prequalify job seeker's skills before they schedule an interview has added an innovative new feature to their dynamic site. Candidates who do not
And how you can stop them by Riia O'Donnell In the first of its kind survey, The Kapor Center for Social Impact recently published The Tech Leavers Survey – a
by Riia O'Donnell You've done it a million times – pitched an idea for a product or service that would make HR's life easier, and the answer is always the