2018: A Cyber Retrospective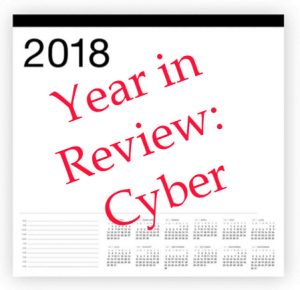 As the year nears its close, it's a good time to reflect on the issues that impacted IT, changing it and shaping what will come next.
#MeToo Affects Tech
Although started in 2017, the #MeToo movement began a culture shift that has tech reeling. Consumers are loyal to companies that embrace diversity, and tech has often been accused of lagging behind when it comes to women. Businesses, looking to diversify their workforce with more women in their ranks and in seats of power, are working hard to shift the "bro-culture" within their firms to become more female-friendly. The results are mixed so far: many believe it will take years to create more gender-equity in tech, but first steps are being taken by many to get there.
A Booming Economy Tightens the Talent Market
A booming economy in the United States has meant the competition for workers is fierce: in technology it can only be described as savage. With demand for tech-savvy workers up and supply way down, businesses are looking for creative ways to hire, offering signing bonuses, relocation fees, and more. Some are recruiting at high-schools in an attempt find raw talent they can nurture and develop. Others are training workers at competing companies they can poach in the future.
Businesses Rethink Decades-Old Employment Requirements
The job description is finally getting an update. Employers, in the tight 2018 market are realigning their expectations for applicants, with many ditching the degree requirement altogether. With more tech candidates completing certifications on their own, attending boot camps, or learning independently, the need for raw talent is outweighing the need for sheepskin.
Free Degrees the Newest Hiring Incentive
Competition is forcing business not only to adjust their hiring requirements, but to create enticements for the few and far between candidates who may apply. Businesses are offering a path to a no- or low-cost 4 year degree and beyond, for new hires to join the fold. The tuition-free benefit is sweeping across almost every category of jobs, tech included, as businesses look to stand out from the crowd in today's tight labor market.
Continuous Training Becomes the Norm
As the digital revolution continues, more job seekers and employees are being left behind. Recent surveys suggest business isn't doing enough to prepare workers for the jobs of the future: many aren't prepared for the work they perform today. A model of continuously assessing and upskilling workers is becoming the new normal in many businesses looking to future-proof themselves and their workers.
Tech Moves Manufacturing
The day of the unskilled manufacturing worker is long past. The newest technology is changing the way we build, and workers from production lines to management must have the knowledge and competencies to leverage technology. Many schools and nonprofits are looking to help business train workers as the manufacturing sector struggles to maintain head count. The mass exit of the baby boom generation, aging out of the workforce is adding even more headaches for business.
VR/AR Changes the Way we Learn
Not the newest technology, but technology applied to new applications, Virtual and Augmented Reality are changing the way workers are learning their jobs in sectors previously not considered. Companies are using VR to train employees to work safely in production lines. Others are prepping staff members with virtual tours of mass shopping crowds, like those they may experience on Black Friday – one of the most hectic holiday shopping days of the year.
Rankdone Introduces Collaborative Content Feedback
To help business and job seekers upskill workers for today and tomorrow's needs, Rankdone introduced Collaborate Content Feedback in 2018. The Rankdone platform now allows candidates to see where their skills did not meet the expectations of future employers, and directs them to specific, targeted learning so they can increase their knowledge base and better prepare for the next opening. Upskilling is critical in today's market: Rankdone is making it easier.
2018 has been an eventful year in technology – and 2019 promises even more excitement. Rankdone can help you stay current on trends and future-proof your workforce. Contact us today.
by Riia O'Donnell When looking to recruit for an opening in IT, what's more important, experience or ability? The question is one that confounds many recruiters and IT managers. Which
by Riia O'Donnell You're hoping to hire top talent for an IT position in your company. Welcome to the competition: you and thousands of other companies are vying for the
As habilidades são um componente essencial em qualquer carreira profissional. Existem dois tipos principais de habilidades que podem ser adquiridas e desenvolvidas: hard skills e soft skills. Neste artigo, vamos